What You Need to Know About Filing a Wrongful Death Claim in Tennessee
A monetary settlement can't bring back a lost loved one, but it can provide you with a sense of closure and the financial resources you need to move forward with your life. Tennessee defines a wrongful death as one that is caused by "injuries received from another" or by "the wrongful act, omission, or killing by another." Car accidents, medical malpractice, and injuries from defective products are some of the most common causes of wrongful death actions.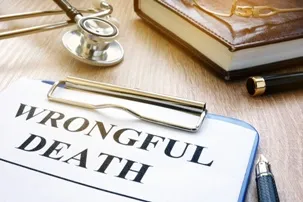 Eligibility to File Wrongful Death Claim
A wrongful death claim must be filed by a person's closest living relative. In most cases, this is the deceased person's spouse, child, or parent. If there is no appropriate family member to file the claim, the personal representative or administrator of the deceased's estate can initiate the action.
Typically, family members have one year after the date of death to file a wrongful death claim for the loss of their loved one. This is referred to as the statute of limitations.
A wrongful death claim is an extension of the personal injury claim the deceased would have been able to file if they had survived their injuries. Available damages include:
Medical expenses up to the time of death
Lost wages and employer-provided benefits
Pain and suffering of the deceased (if death did not occur immediately)
Reasonable funeral and burial costs
Pain and suffering of the family
The family's loss of the deceased person's love, society, and companionship
If the next of kin is a minor child, the funds received from a wrongful death claim must be placed in a trust for the child to receive as an adult.
Connection to Criminal Charges
Often, a wrongful death will involve accompanying criminal charges. For example, someone might be charged with DUI and manslaughter if they caused a fatal accident while intoxicated. These criminal charges are separate from your wrongful death claim.
A criminal conviction can be used to show liability in a wrongful death case, but you can still win your case even if the criminal charges were unsuccessful. This is because the burden of proof is lower in a wrongful death case. A criminal charge requires proof beyond a reasonable doubt, but a civil charge such as wrongful death only requires proof by a preponderance of evidence—which simply means that it is more likely than not that the defendant is responsible.
Did Your Loved One Die Due to the Negligence of Others?
When you're trying to heal after such a devastating loss, the complications of a wrongful death lawsuit can be overwhelming. Put your trust into an experienced legal team that will help your family recover. Weir & Kestner Injury Attorneys offer compassionate, knowledgeable guidance and focus on providing the best possible representation to victims of negligent acts. 
Contact us online or call our office directly at 615.220.4180 to schedule your free consultation. We'll arrange a time to meet with you at one of our offices in Smyrna, Nashville, Murfreesboro or Chattanooga—whichever location is most convenient for you.
Weir & Kestner Injury Lawyers - Knoxville
Weir & Kestner Injury Lawyers - Smyrna
Weir & Kestner Injury Lawyers - Nashville
Weir & Kestner Injury Lawyers - Murfreesboro
Weir & Kestner Injury Lawyers - Chattanooga