How Witness Statements Can Help Your Tennessee Car Accident Case
Accidents can happen anywhere. However, most motor vehicle collisions take place on familiar roads—in fact, research suggests half of all car crashes are close to home. 
A car accident can leave you with injuries and unexpected expenses, but if another person or company's negligence caused the crash, you might be entitled to compensation. Unfortunately, recovering fair damages in a Tennessee car accident case can be challenging. The other party's insurer (or defense attorney) may work to avoid paying you what you deserve.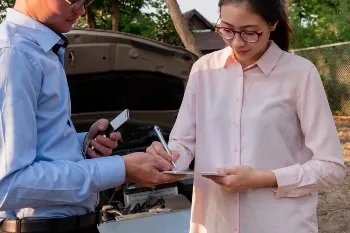 Substantial evidence and skilled legal representation can help you overcome these obstacles. Statements from people who witnessed the crash can be valuable for supporting the damages in your insurance claim or lawsuit. Here's what you should know about the value of witness statements in Tennessee car crash cases, including how Weir & Kestner Injury Lawyers' adept team can help you gather evidence, navigate the confusing insurance claims and litigation processes, and fight for a fair recovery.
Witness Statements Are Essential Evidence in Car Crash Cases
You probably know the importance of exchanging contact and insurance information with other drivers and taking photos (or video) of injuries and damages immediately following a car accident. However, don't get so busy collecting other evidence that you forget to talk to people who saw the crash. These witnesses may know something that could affect the outcome of your case. 
Make sure to ask them for the following:
Name
Phone number 
Email address
A short description of what they witnessed
Any accident-related photos or videos they recorded
It may be helpful to jot down a brief physical description of each witness (or what they were wearing) to make it easier to remember which person provided what information.
What Witnesses Statements Can Do
Witness statements can be highly beneficial to your fight for a fair recovery. Here are a few examples of how eyewitness accounts can help your Tennessee car accident case.
Witnesses Can Provide Information About How the Crash Occurred
Parties involved in an accident often deny they were at fault to avoid liability. When fault is disputed, witness statements and other essential evidence can help establish who was actually to blame. As a comparative negligence state, the percentage of fault you're assigned after a Tennessee car crash directly affects your recovery—this means eyewitness statements might play a key role in maximizing the value of your claim.
Witnesses Are Neutral Third Parties
Unlike you and the defendant in your car accident case, witnesses are disinterested, neutral third parties. Whereas you and the other party have a financial interest in the outcome of litigation, witnesses have no skin in the game, so to speak. As a result, insurance adjusters, judges, and juries typically consider third-party witness statements unbiased and objective.
Get Experienced and Insightful Legal Counsel for Your Tennessee Car Accident Claim
After a car crash, you may be too busy—or too injured—to follow up with witnesses to get the detailed statements your case needs. Let us help! Before becoming personal injury lawyers, we represented big insurers, so we understand how these companies assess, value, and handle car accident claims. 
Don't underestimate the impact witness statements can make. We can take the information you obtained at the scene, reach out to witnesses for statements, and determine which may benefit your case. Our caring and capable attorneys work on contingency, so there's no fee unless we win. Ready to find out how Weir & Kestner Injury Lawyers can help you win your case and lose your stress?
"Thankfully I had the help of Weir & Kestner. They made what would've been a stressful, scary process so much easier. "
Tori B. | Murfreesboro, TN
"When they negotiated a settlement after filing my case, I was very happy."
John C. | Smyrna, TN
Weir & Kestner Injury Lawyers - Knoxville
Weir & Kestner Injury Lawyers - Smyrna
Weir & Kestner Injury Lawyers - Nashville
Weir & Kestner Injury Lawyers - Murfreesboro
Weir & Kestner Injury Lawyers - Chattanooga