The Importance of Hiring a Wrongful Death Attorney Who Can Fight for Your Rights
The untimely death of a loved one is difficult for the family members who are left behind, particularly if they were financially dependent upon the deceased. If that death was caused by someone else's negligence, they might be entitled to compensation through a wrongful death lawsuit.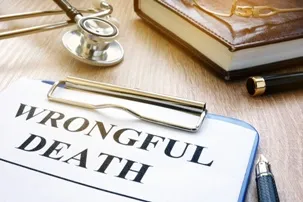 Some of the Most Common Types of Wrongful Death Cases We See Include the Following
Common causes of car accidents that can lead to fatalities include distracted driving (such as texting), driving under the influence of drugs or alcohol, reckless driving (such as speeding, racing, or road rage), poor road conditions because of bad weather, driver fatigue, car manufacturing defects, and inexperienced or elderly drivers.
Motorcycle, Bicycle, and Pedestrian Accidents
Since they don't have the protection of a vehicle around them, motorcyclists, bicyclists, and pedestrians are particularly vulnerable to being involved in a fatal accident. Driver negligence is often the cause.
Commercial Trucking Accidents
Commercial semi-truck accidents can be very complex cases to pursue. For one thing, trucking companies have teams of attorneys on their side protecting their interests. For another, truck crashes can involve multiple liable parties, including the driver, his employer, the truck manufacturer, and the company that loaded the truck.
Medical malpractice occurs when a patient is harmed by a medical provider who makes a mistake or who is negligent. Common causes include an incorrect diagnosis, missed diagnosis, surgical errors, or medication or dosing errors.
Some occupations are more inherently dangerous than others, putting employees at risk of death. Falls, getting stuck in machinery or materials, being struck by an object, and electrocutions cause many fatal work-related accidents.
Product manufacturers must ensure their products are safe so that consumers will not be injured or die while using items such as home appliances, sporting gear, automobiles, medical devices and medication, toys, and children's products.
Did Your Loved One Die Due to the Negligence of Others?
When you're trying to heal after such a devastating loss, the complications of a wrongful death lawsuit can be overwhelming. Put your trust into an experienced legal team that will help your family recover. Weir & Kestner Injury Attorneys offer compassionate, knowledgeable guidance and focus on providing the best possible representation to victims of negligent acts. 
Contact us online or call our office directly at 615.220.4180 to schedule your free consultation. We'll arrange a time to meet with you at one of our offices in Smyrna, Nashville, Murfreesboro or Chattanooga—whichever location is most convenient for you.
Weir & Kestner Injury Lawyers - Knoxville
Weir & Kestner Injury Lawyers - Smyrna
Weir & Kestner Injury Lawyers - Nashville
Weir & Kestner Injury Lawyers - Murfreesboro
Weir & Kestner Injury Lawyers - Chattanooga