Accident Hotspots to Avoid in Metro Nashville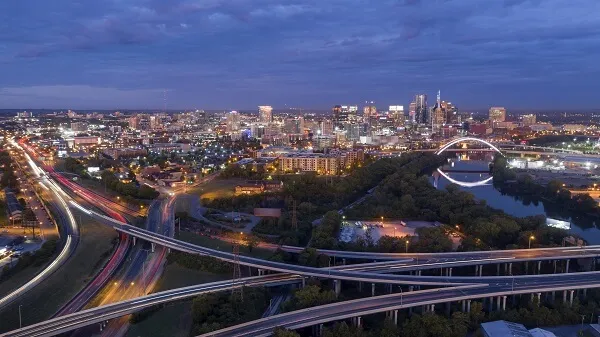 Nashville's traffic is notoriously bad, with the average commute exceeding 45 minutes. A recent study from Texas A&M placed Nashville as the 24th most congested area in America. Not surprisingly, with high traffic volume comes a higher rate of crashes. In the first half of 2021, Nashville police logged no fewer than 9,000 vehicle accidents across the area. While collisions can happen anywhere, there are definitely a few spots in Nashville where accidents are more likely. Take extra care at the following roads and intersections—or better yet, avoid them completely. 
I-40 at I-24
Interstate-40 is already considered the deadliest highway in Tennessee, according to data from the NHTSA. But the interchange between Nashville's busiest east-west and north-south interstates is exceptionally busy, especially during rush hour—and with people prone to distracted driving and speeding, this hotspot is notorious for all sorts of accidents from fender-benders to fatal crashes.
I-24 Near Briley Parkway
Located on the north side of Nashville, this section of road is a main artery for incoming commuters. High traffic volumes and speeding drivers make this corridor a high-risk area for serious and fatal traffic accidents.
I-24 Near Antioch
Just east of Nashville, I-24 intersects with Highway 41 (also known as Bell Road) near the town of Antioch. Every year, thousands of travelers use this intersection to reach their destinations in and around Brentwood, making the area incredibly dangerous. In fact, this is one of the most accident-prone sections of Interstate 24 in Tennessee, with dozens of fatalities recorded each year.
Hickory Hollow Parkway at Mount View Road, Antioch
It's worth noting that all of Antioch itself could be considered a Nashville accident hotspot due in part to commuters speeding along narrow roads with minimal signage. But there is a consensus among the locals and statisticians alike that the intersection of Hickory Hollow Parkway and Mount View Road is the most dangerous in Metro Nashville. While it's not known for exceptionally high traffic volume, the road curves so drivers can't see the stop sign until they are right upon it.
Nolensville Pike Near Harding Place
Until recently, the section of road along Nolensville Pike between Harding Place and Welshwood Drive was considered the most dangerous pedestrian crossing area in Nashville due to an inordinate number of pedestrian fatalities over the years. While improvements to sidewalks and additional crossing signage have made this area safer for pedestrians over the past few years, Nolensville Pike itself is still quite narrow for the traffic congestion it now endures, making it prone to rear-end collisions and sideswipes. 
Murfreesboro Road and Thompson Lane
Murfreesboro itself was recently identified as one of the most dangerous U.S. cities to drive in, with nearly 15 percent of drivers having a speeding ticket and nearly 16 percent named at fault in an accident. The intersection of Murfreesboro Road and Thompson Lane is just one of many on Murfreesboro Road that puts commuters at risk every day. Thompson Lane is a narrow road that drivers must cross to continue on Murfreesboro Road, and the two are heavily used by commuters heading to and from nearby Tennessee State University.
Accident hotspots like these often lead to more than just "fender-benders." If you or someone you love has been injured in a motor vehicle accident in Nashville, you need an experienced personal injury attorney on your side to make sure you get all the compensation you deserve. At Weir & Kestner Injury Lawyers, we understand the dangers of driving in Nashville, and we know how to negotiate with insurance companies and hold bad actors responsible. We only get paid if we win. Fill out our contact form today to schedule a free consultation.
Were You Injured in a Tennessee Car Accident?
"Thankfully I had the help of Weir & Kestner. They made what would've been a stressful, scary process so much easier. "
Tori B. | Murfreesboro, TN
"When they negotiated a settlement after filing my case, I was very happy."
John C. | Smyrna, TN
Weir & Kestner Injury Lawyers - Knoxville
Weir & Kestner Injury Lawyers - Smyrna
Weir & Kestner Injury Lawyers - Nashville
Weir & Kestner Injury Lawyers - Murfreesboro
Weir & Kestner Injury Lawyers - Chattanooga