Injured in a Tennessee Motorcycle Crash? Our Injury Lawyers Can Help You Fight for Fair Compensation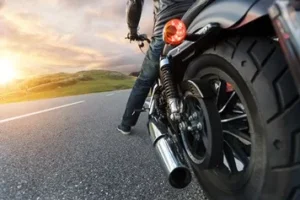 Serious injury and fatal motorcycle accidents are trending upward, both throughout the nation and here at home in Tennessee. These crashes can result in devastating physical injuries and financial losses—and because motorcycles lack the exterior protection of an enclosed vehicle, motorcyclists are typically the ones who bear the brunt of the injuries and damages.
Are you dealing with catastrophic injuries or grieving the loss of a loved one due to a motorcycle crash caused by another person's or company's negligence? If so, you're not alone.
Here's what you should know about Tennessee motorcycle wrecks. We provide a brief look at national and state motorcycle accident statistics and explain how the experienced and insightful legal team at Weir & Kestner Injury Lawyers can help you explore your options for compensation if you were hurt in a crash you didn't cause.
National Motorcycle Accident Facts and Stats
Though motorcycles make up just 3 percent of the vehicles registered in the United States, they are disproportionately represented in motor vehicle accidents, accounting for 4 percent of all injury crashes and 14 percent of all traffic accidents involving a fatality. This means that each year, thousands of motorcyclists (and their passengers) are injured or killed in crashes throughout the U.S.
Motorcycle accident fatalities have been on an upward trajectory for more than a decade, with the number of deaths increasing by 20 percent from 2011 and more than doubling since 1997. Sadly, a total of 5,579 motorcycle riders and passengers died—and more than 180,000 required emergency medical care for crash-related injuries—in 2020 alone, according to a National Safety Council (NSC) analysis of data from the National Highway Traffic Safety Administration (NHTSA). Not only is that the highest number of motorcycle deaths recorded to date, but it also represents an 11 percent increase from 2019. As of October 2022, the fatality rate for motorcycle crashes stood at 31.64 per 100 million vehicle miles.
Other notable facts about fatal 2020 motorcycle accidents include that the majority occurred:
In good weather
During the daytime
In crashes involving two vehicles
Tennessee Motorcycle Crash Facts and Stats
Tens of thousands of motor vehicle crashes occur in the Volunteer State each year. According to a report from the Tennessee Department of Safety and Homeland Security (TDSHS), between 2,000 and 3,000 of those wrecks involve motorcycles. From 2016 to 2021, the state recorded a total of 17,127 motorcycle accidents, some of which resulted in serious injury or death. Unfortunately, more than 150 people died in Tennessee motorcycle crashes in 2020, and an additional 170 motorcycle accident fatalities occurred in 2021. Not surprisingly, the majority of these fatal crashes happened in the spring and summer months.
How an Attorney Can Help If You Were Hurt in a TN Motorcycle Accident You Didn't Cause
Accident and injury litigation can be confusing, stressful, and time-consuming. This is particularly true of motorcycle crash insurance claims and lawsuits. Often involving catastrophic injury and damages, which can translate to sizable settlements or financial awards, motorcycle accidents aren't your typical fender-bender cases that can be resolved quickly and fairly. Instead, you can expect significant pushback from the at-fault party's insurer or lawyer and may even face unfair bias against motorcyclists.
Hiring a knowledgeable and experienced motorcycle accident lawyer can level the playing field and lift the weight of litigation off your shoulders. Whether you were injured or lost someone you loved in a Tennessee motorcycle crash, Weir & Kestner can help you investigate your right to recovery, gather essential evidence, value your damages, banish unfair bias, and much, much more. As former attorneys for big insurers, we know just how these companies assess and value claims. Depending on the facts of your case, we could potentially help you recover compensation for medical expenses, lost wages and earning capacity, out-of-pocket costs, physical pain and suffering, mental distress, scarring or disfiguration, and other losses.
Ready to find out what our skilled legal team can do for you? Complete our online contact form or call 615-220-4180 to schedule an appointment for a free initial consultation. Have more questions about Tennessee motorcycle accident claims? Browse our FAQs.
Were You Injured in a Tennessee Motorcycle Accident?
There's no need to suffer alone due to someone else's negligence. The experienced legal team at Weir & Kestner Injury Attorneys focuses on providing the best possible representation to victims of motorcycle accidents. Contact us online or call our office directly at 615.220.4180 to schedule your free consultation. We'll arrange a time to meet with you at one of our offices in Smyrna, Nashville, Murfreesboro or Chattanooga—whichever location is most convenient for you.
Weir & Kestner Injury Lawyers - Knoxville
Weir & Kestner Injury Lawyers - Smyrna
Weir & Kestner Injury Lawyers - Nashville
Weir & Kestner Injury Lawyers - Murfreesboro
Weir & Kestner Injury Lawyers - Chattanooga