Murfreesboro Included in "Top 20 Most Dangerous Cities to Drive in"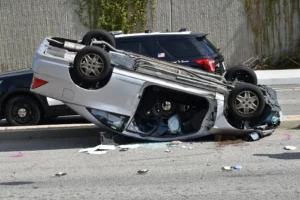 Did you know that Murfreesboro has recently been named on the top 20 list for most dangerous cities to drive through in the entire United States? This is an alarming claim for those of us who live in Rutherford County and spend most of our days driving in and around Murfreesboro. If you spend any time on I-24, it wouldn't surprise you to know there are high statistics of accidents heading to and from Nashville, but who honestly would have thought driving inside of Murfreesboro City limits is where the real danger lies?
When we first heard this, having our unique experiences as injury attorneys in Rutherford County, we could see where this might be the case. We have handled many automotive accident injury cases in Murfreesboro, so when you think about all of the other attorneys in town handling busy case loads — there are a lot of accidents happening in and around Murfreesboro. So what are the criteria that claimed Murfreesboro a spot on this infamous 'dangerous cities' list? Check this out:
Nearly 15% of the city's residents have a speeding ticket (we see you Veterans Parkway).
Nearly 16% of Murfreesboro residents have an at-fault accident on their record (no, we can't blame MTSU students for this – they aren't all residents).
Almost 2% of Murfreesboro residents have a DUI violation on their record.
Let's think about this a little further. When looking at a person's "active driving record," a speeding ticket stays on your record for five years. In the last five years, 15% of Murfreesboro residents have had a speeding ticket. An at-fault accident stays on your active record for three years – THREE YEARS. And finally, though a DUI technically stays on your record for life, the active time a judge will look back when dealing with a second offense is ten years. This puts the numbers into some serious perspective. Luckily for you—you have us—Weir and Kestner Injury Lawyers!
Though we can't keep you safe driving on the dangerous streets of  Murfreesboro, TN, we are there to help you should you find yourself in need after an accident. We help people get the compensation they deserve — not just what the insurance companies offer.
Were You Injured in a Tennessee Truck Accident?
At Weir & Kestner Injury Lawyers, we are committed to providing the best possible client experience. Fill out our contact form below to schedule your free consultation today.
Weir & Kestner Injury
Lawyers - Knoxville
800 S. Gay Street, Suite 700
Knoxville, TN 37929

Phone: 615-220-4180
Fax: 866-538-5331

Office Info + Get Directions +
Weir & Kestner Injury
Lawyers - Smyrna
10541 Cedar Grove, Suite 130
Smyrna, TN 37167

Phone: 615-220-4180
Fax: 866-538-5331

Office Info + Get Directions +