How Filing an Incident Report in a Slip and Fall Case Can Help Your Claim
If you have a slip and fall accident because of a property owner's negligence, you are entitled to be compensated for your injuries. But proving negligence can be more difficult than you'd expect. This is why filing an accident report right after your fall is so crucial.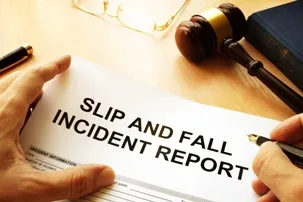 Filing an Accident Report Can Strengthen Your Slip-and-Fall Claim
After a slip-and-fall accident, get immediate medical attention to address your injuries. Then you'll need to file an incident report, which will help with your claim with the property owner's insurance company. This provides the following benefits:
It serves as proof of your accident and establishes that you informed the owner of your fall and possible claim.
It can help avoid any disputes as to the details of the accident and where the accident occurred.
When filing your accident report, be sure to note any details about how the environment may have contributed to your slip and fall, including improper flooring and other hazards.
Information to Include on Your Accident Report
If your slip and fall takes place at an established business, the owner may have a boilerplate incident report form for you to use. But if the accident happens at someone's home or other property, you will probably need to create your own document. Include the following details in an accident report:
Your name and contact information
Date, time, and location of the accident
Names and contact information for the property owner, any witnesses, and employees who may have responded after the incident
A description of what happened with as many details as possible, including any hazards that may have contributed to the fall
Be sure to keep a copy of the report along with any other paperwork associated with the accident, such as medical records.
Were You Injured in a Tennessee Slip and Fall Accident?
Weir & Kestner Injury Lawyers - Knoxville
Weir & Kestner Injury Lawyers - Smyrna
Weir & Kestner Injury Lawyers - Nashville
Weir & Kestner Injury Lawyers - Murfreesboro
Weir & Kestner Injury Lawyers - Chattanooga